It's summertime and nothing is better than sipping some margaritas and munching on some fresh, homemade salsa and chips on a warm summer day. If you can't make it out to Chapala Mexican Restaurant, then you can always make some homemade salsa recipes yourself! The best part of making your own salsa is that you can choose your own unique flavors and ingredients. Here are our top three salsa recipes we recommend trying out this summer. 
Roasted Tomatillo & Avocado Salsa Verde
Recipe courtesy of The Crafted Sparrow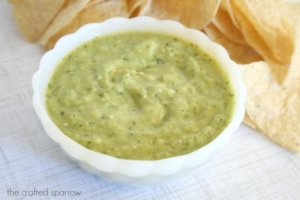 Ingredients:
1.25 lb. Tomatillos, wrapper removed and rinsed

1 large White Onion, cut into quarters

2 tb. minced Garlic

2 large Jalapenos

2 tsp. ground Cumin

2 tsp. Salt

1 large handful Cilantro

2 Avocados

2 tb. Lime Juice

2 tb. Vegetable Oil
Instructions:
Preheat your oven to 450 degrees. On a baking tray place all your tomatillos, jalapenos, and onions. Drizzle with your oil and roast for 15 minutes.

Prep your avocados by removing the pits and set aside. Once you remove the roasted items from the oven, remove the majority of the seeds and membrane from the jalapenos. The seeds and membrane are the sources of all the heat, so the spicier you want it the more you leave in it.

In a blender or food processor place half of your tomatillos, onions, jalapenos, and avocado. Add half of the garlic, cumin, salt, and cilantro. Pulse until it's mostly smooth.  Pour into a separate bowl. Add the remaining of those same ingredients into the food processor or blender and repeat the last step and add to the bowl.

Add your avocados with about 1 cup of the pureed mixture in the food processor and pulse until completely smooth. Now add to your salsa mixture, also add your lime juice and mix together well until it's all combined.
Roasted Salsa
Recipe courtesy of YummyHealthyEasy.com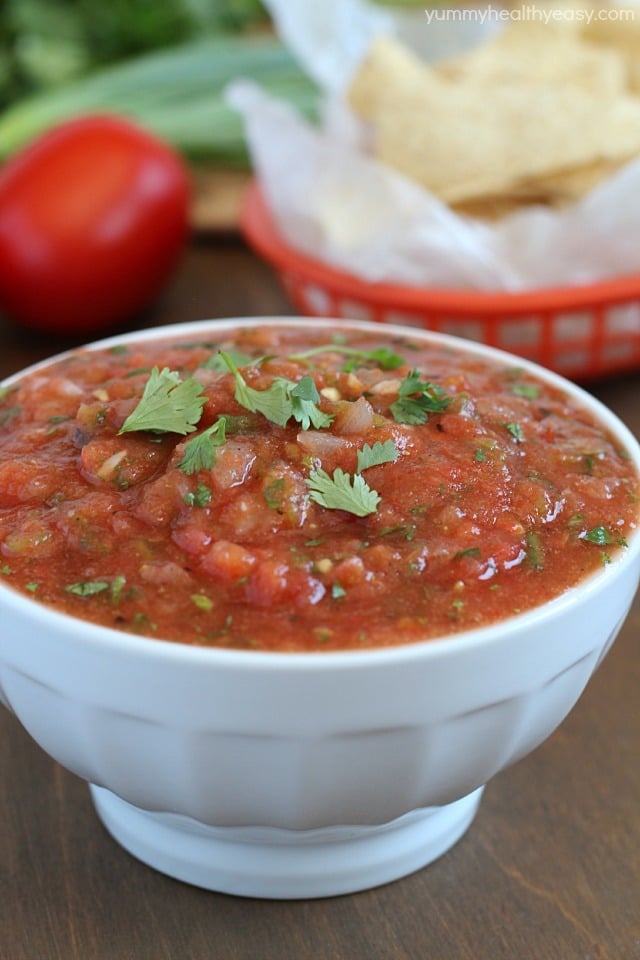 Ingredients
:
10 roma tomatoes

3 cloves garlic

1 shallot

1 sweet onion

2 jalapeños (or more if you like it spicier)

1 tsp. cumin

½ tsp. salt (or more, for taste)

⅛ tsp. pepper

¼ of a lime, squeezed

¼ cup chopped cilantro (or more, if desired)
Instructions:
Heat up your broiler on your oven. Place tomatoes, garlic (with the peels on), shallot (with the skin on), onion (peel and cut in half) and whole jalapeños on a cookie sheet. Place under the broiler.

I like to rotate the veggies periodically so they get equally cooked. When skins begin to char, pull cookie sheet out of the oven. Be careful not to burn the garlic! It should take about 10-15 minutes.

When finished, let the vegetables cool down then peel the garlic skins and shallot skin off. Using a food processor or blender (I used my Vitamix), blend all the vegetables together to the consistency of your liking.

Add cumin, salt, pepper and lime juice. Stir in cilantro. Taste and add extra seasonings if necessary. Enjoy!
Watermelon-Peach Salsa and Tomatoes
Recipe courtesy of Southern Living and MyRecipes.com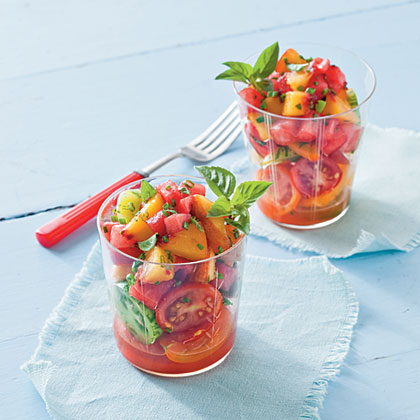 Ingredients:
½ cup hot pepper jelly

1 tbs lime zest

¼ cup fresh lime juice

2 cups seeded and diced fresh watermelon

1 cup peeled and diced fresh peaches

⅓ cup chopped fresh basil

⅓ cup chopped fresh chives

3 cups baby heirloom tomatoes, halved

Salt and freshly ground pepper

Garnish: fresh basil sprig
Instructions:
Whisk together pepper jelly, lime zest, and lime juice in a bowl; stir in watermelon and next 3 ingredients.

Season halved baby tomatoes with salt and freshly ground pepper to taste; spoon into cocktail glasses. Top with salsa. Garnish, if desired.