In our last blog, we covered a day of healthy Mexican food for breakfast and lunch. At Chapala Mexican Restaurant, our favorite meals are dinner and dessert! Here is part two of a day of healthy Mexican food with recipes for light chicken enchiladas as well as a special recipe for dessert and a nightcap all in one: creamy margarita popsicles.
Dinner:
Light Chicken Enchiladas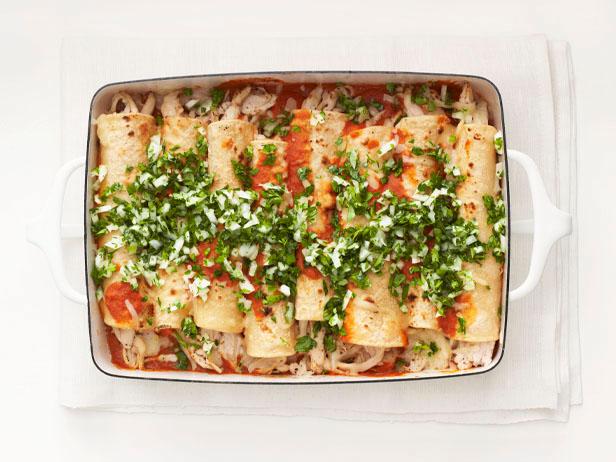 Chicken enchiladas are a staple Mexican cuisine and are one of our favorites! Here is a light version of this iconic Mexican dish, recipe courtesy of Food Network Kitchen.
Ingredients:
2 tbsp extra-virgin olive oil – plus more for brushing

1 to 2 jalapeno peppers – seeded and sliced

3 cloves of garlic – smashed

½ tsp dried thyme (or 1½ tsp

fresh

thyme)

1 medium white onion – minced

½  pound skinless, boneless chicken breast – halved lengthwise

Kosher salt

3 to 4 tomatoes (about 1½ pounds) – cored and roughly chopped

½ tsp ground allspice

8 corn tortillas

1½ cups shredded muenster cheese (about 6 ounces)

1 cup mixed fresh parsley and cilantro – chopped
Directions:
Preheat the oven to 450

°F

. Heat 1 tablespoon olive oil in a large skillet over medium-high heat. Add the jalapeno, garlic, thyme and half of the onion. Cook, stirring until soft, about 3 minutes.

Add the chicken, 1 teaspoon salt and ¾ cup water. Bring to a boil, then cover and cook until the chicken is tender, about 6 minutes.

Remove the chicken to a plate. Transfer the cooking liquid and vegetables to a blender; add the tomatoes and allspice and puree with the lid ajar.

Wipe out the skillet, add the remaining 1 tablespoon olive oil and place over medium-high heat. Add the tomato mixture and cook until slightly reduced, about 6 minutes. Pour into a baking dish.

Brush the tortillas with olive oil and put on a baking sheet; bake 5 minutes. Shred the chicken. Top each tortilla with chicken and cheese, then roll up and arrange in the baking dish, seam-side down, spooning some sauce on top.

Bake until the cheese melts, 4 minutes.

Toss the herbs, remaining onion, and salt to taste. Sprinkle on top.
Dessert:
Creamy Margarita Popsicles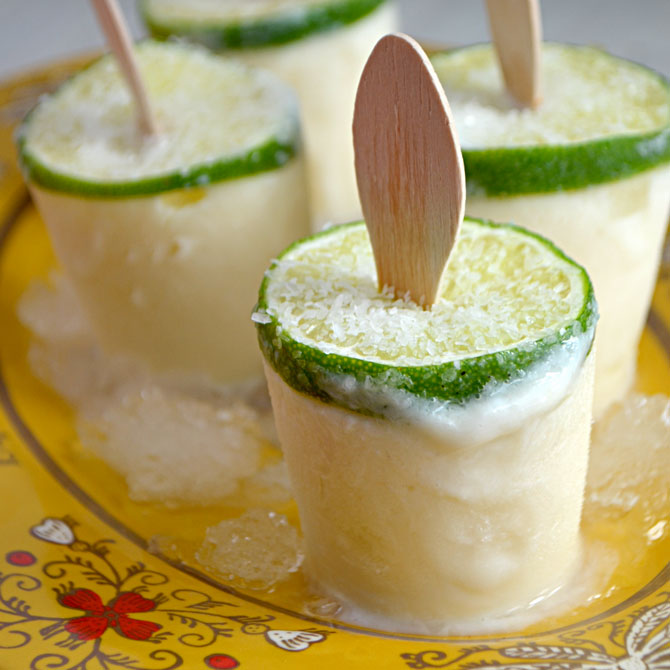 If you know us at all, then you know we love our margaritas, and what's Mexican food without a little tequila? These creamy margarita popsicles are the perfect treat you need at the end of a long day. Recipe courtesy of Host the Toast.
Ingredients:
1¼ cup fresh lime juice (about 8 limes), plus 4 limes for stabilizing the popsicle sticks

1 (14oz) can of sweetened condensed milk

1 cup water

¼ cup tequila

2 tbsp orange juice (optional)

Kosher salt or margarita salt
You will also need:
12 (3oz) Dixie cups

Small popsicle sticks or craft spoons

A pitcher or large cocktail shaker
Directions:
In a pitcher or large cocktail shaker, combine the lime juice, sweetened condensed milk, water, tequila and orange juice.

It is important to combine the ingredients in a container that has a spout because it will make it much easier to pour the mix into cups.

Line out the Dixie cups on a baking sheet, so it will be easy to transport them to the freezer. Fill each Dixie cup 90% of the way with the tequila mixture.

Slice the limes into ¼ inch thick rounds. Push a craft spoon through the center of each lime round, so that half of the stick pokes out from each side.

Top the mixture with the lime sticks. Make sure the lime is resting directly on top of the tequila mixture.

Freeze for at least 6 hours, or overnight.

When ready to remove the popsicles from the Dixie cups, simply snip a small cut in the rim of each cup and peel them away from the popsicle.

Place the popsicles onto a dish with crushed ice to keep them from melting too quickly, Sprinkle the tops generously with kosher salt

Serve and enjoy!
At Chapala Mexican Restaurant, we have many healthy options for you to choose from. Let us know which are your favorites by leaving us a review!